America does not need our sympathy, they need our admonitions, the world should be telling the USA were going to stop doing business with you if you don't stop killing people as a way of life.
I have no idea why they even bother posting stories about mass shootings in the USA, its not even possible to get it through their heads that they have a problem, they think the problem is people who are opposed to guns, that the right to bear arms is so much more important than protecting children or the general public.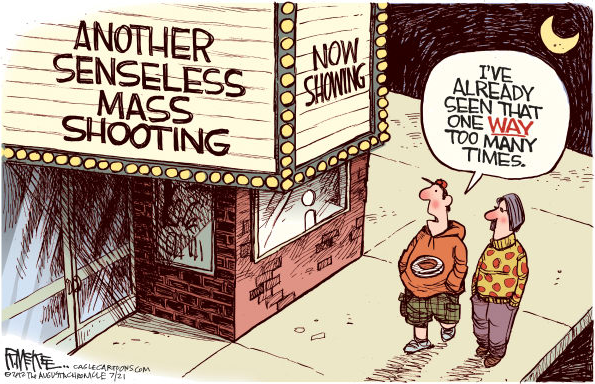 Maybe the rest of the world has to see this as population reduction, self imposed, because they are the only nation on earth with such an obsession with killing, not just at home but all over the world.
BSO: 17 dead in Marjory Stoneman Douglas High School shooting
2 dead, 3 wounded in Lower 9th Ward shooting, New Orleans police say
Police: Gunmen barricaded after 2 women killed, officers wounded
Victims Identified In Apparent Quadruple Murder-Suicide Of 'Family' In Johnson Co.
Shooting on 95: West Palm police ID first of Hugo Selva's victims
Man caught up in deadly Colorado shootout couldn't feel legs
1 killed, 5 injured in shooting at Garfield Heights sports bar
That was just February alone, in January 2018 there were 23 mass shootings
See the stats, they are mind boggling. The Gun Violence Archive
Then who could forget 2017 when this story broke - 1,516 mass shootings in 1,735 days: America's gun crisis – in one chart
For those of us living outside of the USA, all we can do is pray that someday America will discover that human life is more important that the right to bear arms, that is if they don't blow up the world first, but we all know that they think they have the right to bear arms against anyone anywhere in the world.
Since the end of World War II, there have been 248 armed conflicts in 153 locations around the world. The United States launched 201 overseas military operations between the end of World War II and 2001, and since then, others, including Afghanistan and Iraq.
"The United States is responsible for 41% of the world's total military spending. The next largest in spending are China, accounting for 8.2%; Russia, 4.1%; and the United Kingdom and France, both 3.6%. . . . If all military . . . costs are included, annual [US] spending amounts to $1 trillion . . . . According to the DOD fiscal year 2012 base structure report, 'The DOD manages global property of more than 555,000 facilities at more than 5,000 sites, covering more than 28 million acres.' The United States maintains 700 to 1000 military bases or sites in more than 100 countries. . . ." 90% of All Deaths In War Are CIVILIANS
Thanks for having taken the time to read what I have shared with you,  
 


Comments
comments