Pipelines full steam ahead, its a Canadian priority
With the election gone and done, all the power has been removed from the radical left, the environmentalists, who think their political signs are exempt from rules on plastic. What's with that obsession to get rid of plastic, but plaster them all over nature with no regard for what becomes of that plastic after an election?
Seriously, before the snow buries them, do something as opposed to yelling. Parents you need to put your asses on the line, leave your kids to stay warm inside the cars, yes most of you drove there, lets see the real monsters (parents) behind this climate strike.
Instead of protesting your loss on the 21st, why not use all those hands to clean up the mess of plastic instead. Maybe you can use them a burning barrel to keep warm, as you do not have a recycling plan for those signs.
The problem with elections is that it's one time radicals have a lot of power, politicians are so afraid of that bit of negative press that even keeps them from standing on their own moral two feet.
How many people are amazed that with the environment as the number one issue, it was not important enough to rate in the election results. Now the Green party did gain a seat, and did prove a lot in this election, they proved that the loudest voice "climate change" only mattered on the street and not in the ballot box. The truth is they are anarchists & obstructionists and most certainly will sacrifice the environment to have their way.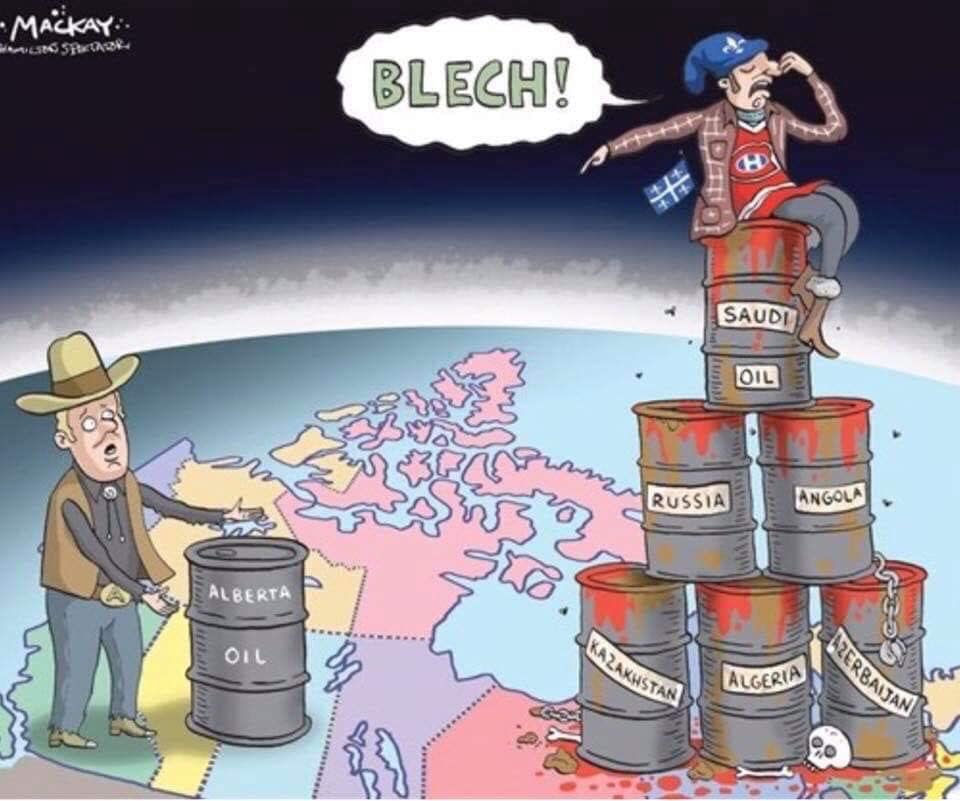 Locally here the anarchists & obstructionists were very vocal about supporting the Greens due to a lack of definitive opposition by the NDP in our riding. So what does that mean on the issue of pipelines? It means out of 45 Thousand voters only about 3 Thousand are opposed to the pipeline in our entire riding. Most of them have nothing to do with the anti pipeline crusaders. Now we know, they do not have local support, they are few but make so much noise you would think there is a battalion of support.
I cannot help but think about the logic when these anarchists & obstructionists say "WE do not recognize Canada's courts" but use them anyways. They do not recognize Canada, but vote anyways.
They say they oppose the use of OIL, but use it daily anyways. Do not recognize the province of BC, but take every goverment handout they can get their hands on. Live where they are 100% dependent on road maintenance that they do not pay for. They use our medical system and dental system, as if it was created to serve them, so damned thanklessly. They use GoFundMe as a means to rob the very people who think they are helping them. It takes a special kind of person to do this, and you know what kind of special I am referring to.
——-
The after election reality is that Justin did the proverbial "Woke" and has woke to the fact he was elected by only a very small portion of Canada, he needs to make sure he does not end up creating a separatist movement in the west, and to do that he needs to do what the west has demanded.
Between Liberals and Conservatives, Justin  has a massive mandate to get the pipelines built.
Given that the first speech was "Pipeline will proceed" it looks like this election might be the most powerful sign yet that the west will not tolerate any more delays in getting major pipelines built. The election results sent a chilling message to both the NDP and the Greens that the public heard them, and they did not buy into their story.
While the Americans moved into first place, the single largest OIL producer in the world, they managed to use the NDP and the Greens to undermine our industry, leaving Canadians closer to poverty than ever before.
Justin Trudeau held a press conference and one of the first commitments he made was to insure Trans Mountain Pipeline will proceed on schedule. Without a doubt there will more opposition, but this time the Liberals have no choice but to start moving oil and gas out of Canada through British Columbia and they will be backed up by the Supreme Court of Canada.
That combined with the noise coming from the Gidimt'en camp is confirmation that the election is no longer standing in the way of getting the job done.
It will come down to choices, make as much noise as you want, fine, break the law and you will pay for doing so. There may be a four year wait before protestors matter enough to make their  interference a problem. It's time to get the pipelines built, with the full support of the Supreme Court of Canada.
Remember Delgamuukw, in that hearing the Supreme Court ruled, that the interests of the nation as a whole will remain the priority over small minorities, and without question the majority of First Nations are signed on to see this project through.
In fact it has so much support you could say the project is being led by First Nations.
The lawless will simply end up ruining their own lives, by their own choices.
Thanks for having taken the time to visit and read our articles. I had my say, feel free to post your thoughts as well, be part of making a difference.