New Violation of the Supreme Court Injunction Order near Hooligan's Hotel

Update: Rob Alfred and was charged March 19th 2019 with violating the court injunction and must now appear in court with those charged during the illegal blockade. He must make his court appearance on April 15th, in regards to what occurred in this article.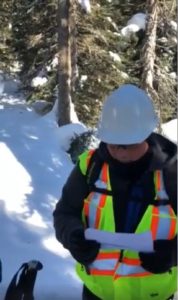 I just wonder how much the Office of the Wet'suwet'en will claim as people officially speaking on their behalf. Looks like there is a very high probability of a massive return by the RCMP and a very likely heavier ongoing presence to insure those who interfere will be arrested.
Obviously the OFW is legally illiterate, only those breaking the law can be charged, unless evidence supports they are acting on behalf of others, then both become complicit, so until the OFW claim responsibility, it will be on the heads of the perpetrators.
I did note with humor that  Rob Alfred, who was blocking CGL was doing so, even though he was not even on his own territory. Speaking for another clans territory is sort of a no no there, based on their own rules. The location here is based on my best guess is about 25 Km west (crow fly) from the Hooligans Hotel.
Note also the death threats made by supporters of these hooligans. On a more interesting note, this brings us to another story, that the road through Wet'suwet'en territory is nearing completion.
COPYRIGHT NOTICE


In the event we are using copyrighted material, we are doing so within the parameters of the Fair Dealing exception of the Canadian Copyright Act.

On occasion we may use photos or videos without express permission for education purposes. If we have images on our website that do not incude a copyright users name, it could be for a number of reasons, the first is we might own the image, or it might published under Creative Commons, or we have no idea who owns the image as they may be reader submitted images, please be aware we are not using the images for profit or commercial use, and would be more than happy to give credits and or remove them based on legitimate request.

Fair Dealing is an exception in the Canadian Copyright Act that permits the use of other people's copyright protected work without permission or payment for the purpose of research, private study, education, satire, parody, criticism, review or news reporting.

Please verify if it is NOT a legally embedded photo or video before filing a complaint.

If you are the legitimate copyright owner and object to our usage of the images or want to have credits added, please contact us using our contact page. Please be specific in your description and location to where it is being used. Please supply I with evidence of where it was originally posted legally, and a link to where you claim we are using it.