Social media highlights - Unist'ot'en blockaders
Not too much going on to report, other than what you might have missed in social media.
Then out of the blue comes comments like this, when we all know there is no history left, other than records by anthropologists both past and present have no records of  Warner Naziel's claims here, and most Wet'suwet'en do not even have a birth linage that predates the 1900's. So I am going to suggest this is purely invented history to support a false claim to a man who wears a stolen blanket, that in fact belongs to the real Smogelgem, Gloria George. We ourselves did read all the anthropology reports available to date and cannot find any supporting evidence, not even to the existence of the name Dini Ze' Dsahayl.
Pulling fiction out of the clear blue sky, its amazing what we can find in social media. Let's begin with a well known complaint and a truthful one by our Wet'suwet'en neighbors.
"The Canadian Government extinguished our history by putting our children in residential schools, then banished the pot latch forbade us to speak our languages and did everything they could to assimilate us. They stole our history, and in many ways we no longer have a history."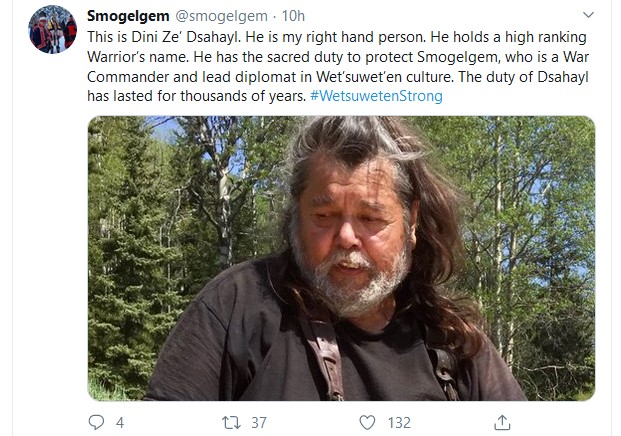 ---
Note: Despite the fact that Adam Gagnon is fully aware of the new Supreme Court injunction, he violates it it anyways, A total disregard for the law.
---
Recall our article Duping the RCMP and Press with Fake Hereditary Chiefs? The night before this duping incident, Cody was at the police checkpoint, and here is where he discovers that Chiefs were permitted to enter, so lo and behold the next day he pretends to be a chief to gain entry, but was initially denied, thus his civil rights claim, go figure. So in fact he was intentionally, knowing trying to dupe the officers, then files a human rights complaint for failing.
---
Next we have the new reporter for the Narwal, who also writes for the famous Yellowhead Institute located in the Ryerson University.  Anne Spice also recently (or still is) infesting our Bulkley Valley with her anti Canada agenda. She is or was at one of the camps on the Morice River roads

Nothing says it better than her own description of herself. Now consider that they believe 100% of British Columbia, and Canada is native land, it means if your honest, they she and the university supports interrupting all Industrial and academic extraction in Canada. A complete betrayal of her Canadian citizenship, and a woman who is now toxic to Canada as a nation.
---
Last but not least was the following post that the Unist'ot'en Camp never did reply to, but they removed the post. It was a legitimate fair question, but when you have a false agenda you need to keep the press contained. Ask the wrong question and boom, your now forbidden to cover their story. Maybe its time the mainsream press asked some of these questions as opposed to the blockaders leading the press with a ring through their noses.

Also this one
Thanks for having taken the time to visit and read our articles. I had my say, feel free to post your thoughts as well, be part of making a difference.