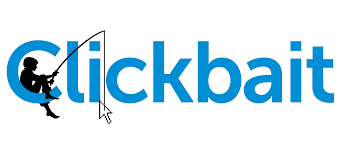 OK today its rant time, how many of you use Google as a search engine, only to get sucked into websites, some who won't even allow you the use of your back key to return to your search?
Then you have that horrid website called Pinintrest that's a glorified cash cow for its owners, and the public gets sucked into its vortex every time you look for something online.
Facebook is loaded with clickbait, websites that appear to have something of interest, but all you find is a page loaded full of commercials to make its owners rich. They get paid every time someone is foolish enough to click, likewise FB is equally guilty of fraudulent business tactics, and that what clickbait is, its fraud.
Buzzfeed is another one of those scamming jackass websites that wallow in online pigshit, sucking people into pages full of online garbage, making millions at your expense.
Then you have the other issue, Google and Facebook practically track you down to the point when where they know what you eat, where you bought it, and when and where you go to the washroom.
Just do a Google search for something like a lawnmower, then look at the ads Facebook loads on your page, if that's not spyware, nothing is.
Thanks for having taken the time to read what I have shared with you,  
 


Comments
comments